[ Home ] [ Alaska Trip 2007 ] [ Boothbay Harbor ] [ Annas_bday ] [ fish_page ] [ bimmer ] [ Rockets ] [ Uinta Hiking 2004 ] [ Art in Bloom ] [ England 2004 ] [ RCW CV ]
Safari 2009!

We had the excellent good fortune to travel to Kenya and Tanzania in November of 2009. Here is a slide show of pictures we took during that trip (just click the big picture above).

The Graduate!

Her parents are very proud!

Thailand 2009

Click here or anywhere in the picture above to go to see pictures and a description of our Alaska fly fishing trip

The Eagle Has Landed!

Click here or on the picture for pictures of Adam's Eagle Ceremony

March 3, 2007

One for the things we did to honor Adam's achievement was to commission a new arrangement of John Phillip Sousa's march, "The Boy Scouts of America March" to play at the beginning of the ceremony. The arrangement was dome by Mike Knudsen of Bath ME for my Castlewood 20 note busker organ. We sent Mike's MIDI file to Melvyn Wright in England who has a MIDI-driven punch to create the roll for the organ. To download an MP3 recording of the result click here. (2.3 MB file). (on my machine a Quicktime window opens and the file plays, I'm afraid I can't predict what it will do on yours.) For those of you not familiar with such things the announcement at the beginning is in the style of Edison recordings dating to the time of the march.
| | | | |
| --- | --- | --- | --- |
| | Pictures from Barcelona, October 2006 | | |
| | Click here to see pictures of our trip to Boothbay Harbor Maine, August 2004 | | Click here to see our 2003 Art in Bloom entry |
| | Follow this link to pictures of the Great Dorset Steam Fair, August 2004 | | Click here to see what we did in the rest of England, 2004 |
| | | |
| --- | --- | --- |
| | Another of our favorite activities is FISHING. | |
Here are some pictures of Annamarie with her birthday roses
See the new baby and driving school pictures
Go here to see mechanical music items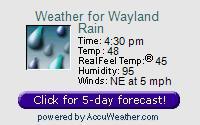 Please let me know if anything on this site doesn't work with your browser or is otherwise broken. This website is being built with FrontPage, but my everyday browser is Firefox -- faster, better, and safer--try it you'll like it!
Last updated: 11/16/2009